Bavarian National Museum
The Bavarian National Museum is prominently located in the Prinzregentenstrasse, near Englischer Garten. It's a true treasure chest of Bavarian Art, Culture and History and even the building itself is breathtaking.
What you can see on the photo above is only the entrance hall of the museum, not the huge side wings with the different exhibitions. If you wanted to visit all the exhibitions, plus "Collection Bollert" that is hosted in another building just a few steps away, you'd need at least one week.
So I recommend to concentrate on the parts that interest you most and dedicate a whole afternoon or even a full day to them.
Nativity Scenes
For me one of the most beautiful exhibitions is the huge collection of Nativity Scenes from all over Europe. It's open during regular hours from November to January. If you want to visit it outside the Christmas season you have to call in advance and ask for an appointment.
These artful nativity scenes show much more than just a crib. Some of them include hundreds of elaborate figurines telling the story. If you want to learn more about the cribs and mangers, the National museum offers an one-hour audio guide just for this section in German, English and Italian.
Knight's Armor and Weapons
My son was fascinated by the big armory. It was hard enough to convince him, not to put on one of the Knight's armors :-) Especially because there's also a small child-sized one (far left one on the picture).
The hall transports you back in time to the Middle Ages when brave Knights and beautiful Princesses lived in Europe's castles.
The Armory is also one of the stations of the kid's audioguide Drachenpfad, that covers only 12 exhibits in the museum. This audio guide is wonderful! In each room it explains the most interesting piece and tells a few facts and figures plus some myths and legends about that one piece.
Meanwhile you can listen to your own general audio guide and get a good overview of the room. While the general audio guide is available in German and English, the Drachenpfad unfortunately exists only in German.
More Collections
The Bavarian National Museum offers everything art and cultural art you could ever wish for.
The exhibitions range from occidental Late Antiquity to Art Nouveau. They include a wide variety of epochs like Romanesque, Gothic, and Renaissance. As well as materials and crafts like ivory, gold, silver, and glass.
I'm sure you'll find lots of interesting things to discover. At the end of the day, you won't have enough time to appreciate everything that you wanted to...
At least that's my experience. Even though you'd like to see "just one more" room, your brain is worn out, and your feet are hurting. The one thing you really want is to sit down and sip a delicious hot coffee.
Especially if you're traveling with kids, don't overdo it. 2-3 hours is more than enough and can be rewarded with coffee and cake in the classy museum restaurant.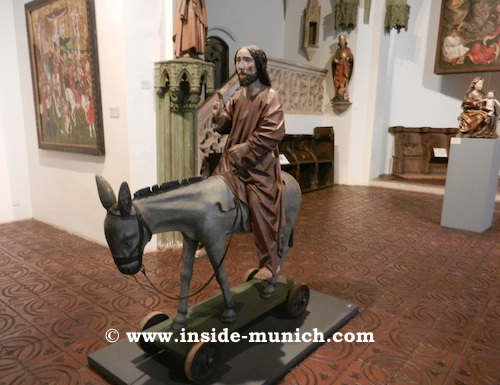 Opening Hours
Tuesday to Sunday 10.00 - 17.00
Thursday 9.30 - 20.00
Monday Closed Closing Days: Please check on the website. The museum is closed on some holidays.

Address
Prinzregentenstraße 3 Underground U4/U5 Lehel
Entrance Fee
Adults: 4 to 7 Euro, depending on what you want to visit.
Sundays: 1 Euro
Children under 18: Free
For more information visit: Bayerisches National Museum (only in German)
More Museums in Munich