Top Cheap Munich Hotels and Accommodations
Munich hotels generally charge some pretty scary prices! If you're on a limited budget, it is not easy to find a nice, yet central accommodation.
Most cheap hostels in Munich are located around the Hauptbahnhof (central station). This is very convenient, because you can reach all major attractions by walking and don't need to spend on public transport.
On the other hand, the area around Hauptbahnhof is not the best one... but keeping in mind that Munich is one of the safest cities anywhere in the world, this shouldn't scare you too much.
Just keep an eye on your belongings when walking around. But, you'd do this anyway, right ?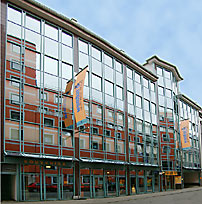 One of the best cheap hostels in Munich is the Wombats City Hostel, which has been voted as Cleanest Hostel Worldwide in 2004, Best Hostel in Germany and No.6 Hostel Worldwide in 2005 by users of Bookhostels.com. Furthermore the famous Lonely Planet guide praises it as one of most attractive cheap Munich hotels.
It's located a few minutes walk from central station in the Senefelder Strasse and run by owners and staff who have traveled the world themselves with a backpack and know what you need!
Pension Lugano (picture to the right) is a nice bed and breakfast near Munich central station with a family atmosphere which will make you feel right at home.
It's located at Schillerstrasse, which is famous for its cheap computer shops. If you have some space left in your luggage, the Schillerstrasse is well worth some electronics shopping. (Only recommended if you know what you do!)




Hotel Am Nockherberg, located in the borough of Munich's Au (Au means "green meadows"), on the right bank of the Isar River.
It still is a very central location, but in a green area, free of traffic noise. Recommended for everyone who doesn't want to stay in the noisy and bustling area near central station. Isar River and Deutsches Museum are within short walking distance, but for other attractions like Marienplatz you need to use the subway.
Jaeger's Hostel is one of the cheapest hotels in Munich. If you're willing to sleep in a dorm, you will pay little more than 10 USD per night.
Located conveniently near central station.
If you have more to add to my list, please feel free to contact me with information! Please also contact me, if the mentioned hotels disappointed you. Management changes and hostels can deteriorate, so I'd really appreciate your updates about how you liked your stay.
You can book all of the above mentioned (and more) hostels here:
There are lots of other cheap Munich hotels. But these are the ones I can vouch for. If you're on a limited budget, I'm pretty sure you'd be happy at these. Some others are pretty "dicey". On the other hand, we haven't visited them all. So do you have a...