Do you need an Oktoberfest Reservation?
If you want to make sure to get a seat in your preferred tent, an Oktoberfest reservation is definitely recommendable.
But it's hard to get.
How to make an Oktoberfest reservation?
If you want to make a reservation, you first have to pick the beer tent you'd like to go. Usually you need to write a letter or fax to the individual beer tent, because they won't accept reservations neither by phone nor online.
To find out the exact procedure, you have to check their websites for contact address and/or instructions. On this page you find the contact details for all big beer tents.
The fax needs to include number of persons, as well as date and time you'd like to reserve.
Number of persons: minimum number for Oktoberfest reservations is 10 persons (one table) and can be done only in multiples of 10.
Date: you can chose one or more dates, it's much more probable to get a reservation on weekdays than on weekends
Time: there are two "time blocks" that can be reserved; noon till 4 pm or 4 pm until end. The times slightly vary from tent to tent. And off course, it is much easier to get a reservation in the afternoon than in the evening.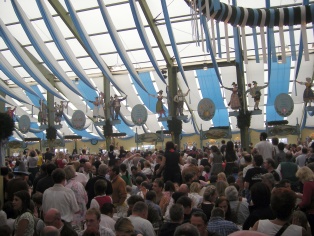 A few weeks to months later you'll receive an answer from them, either with your confirmation or with a polite letter telling you that unfortunately they were not able to give you a reservation and sometimes an alternative offer.
I.e. they could say: "Unfortunately we were not able to allocate you on Friday night, but we still have empty tables on Thursday afternoon."
When to make an Oktoberfest reservation?
Usually the beer tents gather all requests during January and February; and allocate the beer tent tables in March.
But you might still be able to reserve a table during weekdays in the afternoon, even in June or July. Some tents have a waiting list and will call/write you if someone has canceled their reservation. Even though this sounds unbelievable, it happens. Normally this are companies who habitually reserve each year and for some reason or other need to cancel all or at least some of their seats.
How much does an Oktoberfest reservation cost?
You actually don't pay for the reservation, but for the consumption. With each seat you have to buy a minimum of 2 beer and 1/2 chicken, which costs about 25€ (40 USD) per person.
Those prepaid beer and food voucher will be sent to you once you confirm and pay your reservation. The vouchers are valid during the whole Oktoberfest period and even afterwards in specific restaurants in Munich that are owned by the issuing beer tent company.
But I'm sure you won't have any left :-)
Off course, your can make reservations for 10 and only go in a group of seven. Usually the waitress will request you to allow 2-3 other people to sit at your table, when she sees your group doesn't add up to 10.
Join a Tour with a reserved table
Just recently Viator started offering tours to the Munich Oktoberfest. Read my review of the Viator Oktoberfest tours.
What to do if you don't have a reservation?
We used to never reserve, because this gives us more flexibility to decide whether we want to go, at what time, what tent or what day. But during the last years, Oktoberfest beer tents have become more and more crowded. Therefore I always recommend to try and make a reservation at one of the contact details for all big beer tents.
But don't despair if you don't have an Oktoberfest reservation!
The city of Munich requires beer tent owners to keep one third of the seats in the central aisle "unreserved" during weekdays and all of them on weekends.
With a small group of persons, you can get into any beer tent and find a space at the table with other people, if you consider a few things:
Go on weekdays! Weekends and especially Saturdays the beer tents are packed and usually don't let any more people insideGo early, way before 4 pm! Many tables are reserved after 4 pm, so you can sit there until the "owners" arrive
Once you're inside the tent, you have already passed the biggest challenge, now you can freely walk around and search for a place to sit down
Ask nicely if people allow you to sit at their table (many do, others don't)
Don't get discouraged, you might have to ask at 5-10 different tables. And if nothing works out, try another beer tent.
Ask the waitress if she has a place for you somewhere (if you find one who seems to be in a good mood)
What to do if you're really desperate?
If you're still unhappy and desperately want an Oktoberfest reservation, there are some company that offer Oktoberfest Tickets on the so called Second Market. The prices are usually quite hefty, but you decide, if it's worth it.
Is there an alternative?
Actually, there is.
"Das Wiesnzelt"
in the Löwenbräu brewery at Stiglmaierplatz. They claim to have original Oktoberfest feeling with a live band, all the Oktoberfest songs and great beer. Tickets can be booked in advance and are 38€ including 16€ food voucher.
Das Wiesnzelt is also a great place to go after the tents at Theresienwiese close for the night. Here you can party many more hours :-)
Return from Oktoberfest Reservation to Oktoberfest Main Page.