Munich Shopping
Shop Till You Drop
Your first thought about your trip probably isn't Munich shopping, but you'll soon find out that we have plenty of great shops, boutiques, department stores, galleries, ...
There's virtually nothing you can't buy in Munich, ranging from low priced 99 cents stores up to the most expensive designer labels like Chanel, Armani, or Hermes in the exclusive Maximilianstrasse. You can buy hip clothing, gorgeous shoes, interesting books, funny gifts, tacky souvenirs, expensive jewelry, or even a terrific BMW car.
Being the capital of Bavaria and the biggest city around here, Munich is a magnet to many people from small villages and towns to do the shopping here they can't do at home.
The busiest shopping area is definitely the "Fussgängerzone" between Karlsplatz (Stachus) and Marienplatz in the center of Munich.
If you prefer short ways, Munich has a few BIG shopping centers with all kinds of stores under one roof. Which is especially nice, when it rains!
The biggest ones are the OEZ (Olympiaeinkaufszentrum) and the PEP (Perlacher Einkaufspassage). Both words "Einkaufszentrum" and "Einkaufspassage" are German expressions for shopping center.
The OEZ is located next to the Olympiapark, where the 1972 Olympic summer games were held. You reach it via the underground lines U1 or U3.
We've been there for the first time this summer and I was delighted!
This newest of the Munich shopping centers was inaugurated a few years ago, but somehow we never got around to visiting it. With that many fantastic shops in Munich, it's difficult to visit them all ;-)
Tobi and I were very pleased by the modern architecture, the calm atmosphere and, off course, the variety of stores.
Ok, ok, I was pleased by the boutiques, he enjoyed a big ice cream in one of the nice cafés meanwhile :-)
If your man is like mine, bribe him to visit the Olympia Shopping Center with a fantastic ice cream, or even better, with the electronics and computer store in the basement. This should give you more than enough time to explore the other shops.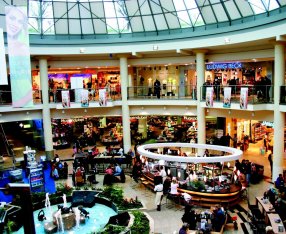 The PEP is located in Perlach, a district in the southeast of Munich. You can get there easily with the underground U5.
It's not the most obvious shopping place for a tourist, because it's quite far away from the center. Nevertheless, I like going there (I used to live around the corner) and the PEP management always comes up with actions like fashion shows or Christmas markets inside the shopping center, which make a visit worthwhile.