Munich Hofbrauhaus - A Beer Legend
The Munich Hofbrauhaus is unarguably the most famous beer hall all over the world. It's been a part of Munich's history since more than 400 years and is as popular (or even more) today than it was centuries ago.
Basically every tourist has visited the royal brewery and drunk at least one Mass beer. It's a must-see during your visit to Bavaria.
Personally, I don't like the place very much. I think there are much nicer and less touristy places around here, where you can have lots of fun and enjoy the authentic Bavarian atmosphere.
I'm not saying it's a bad place, just that there are better places.
But I acknowledge that a visit to Munich isn't complete if you haven't been to the Hofbrauhaus (in German we write it Hofbräuhaus) at least once and therefore I recently visited it to take pictures for you.
Beer Mugs: Steins and Glass mugs
Even if you don't drink beer, there are a few interesting things that are worth viewing. So take your time before sitting down and drinking your first Mass to have a look around.
Right behind the entrance, even before entering the beer hall you find the souvenir shop. Here you can buy all kinds of authentic Hofbrauhaus steins and other Munich gifts.
In former days we used the beer mugs made out of pottery (the grey ones on the picture), but some decades ago they were replaced with glass steins. Nowadays all beer halls and restaurants use glass mugs.
Stein lockers for Regulars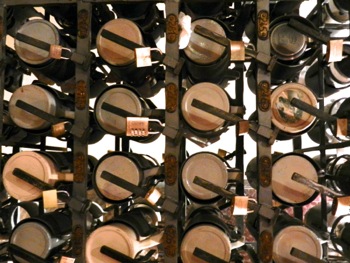 Once you enter the beer hall, turn to your left to find a unique attraction: the personal beer mug lockers (Masskrugtresor).
The Munich Hofbrauhaus has 424 lockers and the only possibility to get one is to inherit it.
People who have a locker would never give up this unique privilege. Even though this is quite expensive: it costs around 200 Euro per year to retain the right to your locker and you even have to wash your stein yourself.
Regular's table - Stammtisch
These customers come here weekly or even daily to drink a beer and spend time with their friends.
The Munich Hofbrauhaus hosts more than 100 Groups of Regulars that meet here at a certain time every week.
They give themselves fancy names like "Lying Barons" (Die Lügenbarone) or "Regulars of King Ludwig" and select a slogan for their group.
On the picture you can see that this particular group has been meeting in the beer hall every Friday since 1961.
Once a Stammtisch has been established is's assigned a certain table and nobody else is supposed to use that table on the days the group meets.
After a few years they even get their own beer coaster as you can see on the picture to the left.
Traditional Bavarian Music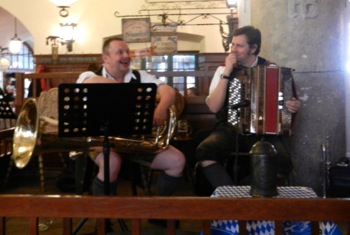 Every day in the afternoon a band plays traditional bavarian folks music for the guests.
On weekdays this is a band working exclusively for the Munich Hofbrauhaus, whereas on the weekends they invite bands from all over Bavaria to perform here.
Now's the time for you to sit down and enjoy a beer. Order "A Mass" (one liter) and don't forget to eat something, because our beer is quite strong.
Traditional Bavarian Tracht: Lederhose and Dirndl
As you can see, there's much more to the Hofbräuhaus than just tourists.
You also find many locals coming here. Especially in the back part of the "Schwemme", where the ceilings are not as high and there's not so much noise.
But if the beer hall atmosphere isn't for you, try the outside beer garden, which is a quiet place to relax right in the center of Munich.
It's also a great place to see people dressed in authentic Tracht, like the friendly man on the picture to the left. He was nice enough to let me take a picture of him to show you how an authentic "Gamsbart" (the thing on the hat) looks like.
Have fun and let me know how you liked your visit!
Want to read the complete guide with even more info and more pictures? You can get the report "The Hofbräuhaus Uncovered" for just 99 cents.
Return from Munich Hofbrauhaus to more Restaurants