Dirndl Dresses and Lederhose
Traditional Bavarian Tracht
In Bavaria, we like to wear Dirndl dresses and Lederhose, the traditional clothing (called Tracht) for special events.
The main occasion is definitely the Oktoberfest, as you can see on the picture taken during the festive marching in ceremony.
But you can wear your Tracht or Trachtenkleidung also for (countryside) weddings, public festivals, beer festivals, and May pole celebrations. Back in your home country you could even wear your Dirndl
and Lederhose
as a Halloween costume or party outfit :-)
Dirndl is the Bavarian word for girl and because formerly all women wore this dress, it was given the same name. The traditional style consists of a wide and long skirt with a (sometimes topless) corsage, a white blouse and a colorful apron. Modern styles are seen in all lengths, from long to mini.
Originally the Dirndl was the working dress of female servants. Even today it's the uniform for waitresses not only during Oktoberfest, but also in many traditional Bavarian restaurants and beer halls. Therefore the fabric usually is very robust cotton.
But at the end of the 19th century Austrian Emperor Franz Joseph (whom you might know from the famous Sissi movies with Romy Schneider) made it fashionable to wear Tracht. Since then, Tracht and Lederhose lost their status as working class outfit.
Off course, you wouldn't expect the rich society women to wear rough cotton or linnen. The Dirndl was "enhanced" and became much more elaborate, made of the finest materials like silk, satin, velvet or brocade. These dresses did not resemble at all in quality and elegance to the working costume of the servants.
Today you can buy Dirndl in all styles, materials, lengths, and prices. It can cost anywhere from 100 Euro (including blouse and apron) up to several thousand Euros.
The most expensive dirndl ever costs 100.000 Euros (ca. 130.000 USD) and has more than 150.000 rhine stones sewn onto it. It was worn as a publicity gag in 2006 by Regina Deutinger. (picture taken from Deutsche Welle)
Lederhosen (leather trousers) are the male traditional clothing in Bavaria. Lately you can see many women wearing them, too. Leather trousers are usually shorts or knickerbockers; very rarely you see them in long style. The traditional ones are usually braided or embroidered with Bavarian motives like the Edelweiss (a flower from the Alps) and have suspenders.
Due to their robust nature (and the high price!) the typical Bavarian man buys only one Lederhose in his adult life. It will last forever, and is usually never washed ...
Just like the Lederhose is a symbol of a "real" man, a Dirndl is an outfit that makes every woman look beautiful and sexy.
If you want to buy a traditional Bavarian dress I recommend to go to a shop that specializes in Trachtenkleidung. Ask the sales woman for help, because it has to fit like a glove! Tight and figure enhancing.
But if you want to have it before your trip to Germany, there are some online stores around, that will over a wide variety of modern Dirndls. I.e. Stockerpoint Trachtenmode offers a huge variety and ships worldwide or you can buy it at Amazon
.
Another great place to buy (online and offline) Dirndl and Lederhose is LODENFREY.
They are the place to go, if you want your Tracht to be truly fashionable and high end in quality. A dirndl bought here is more expensive than at Stockerpoint Trachtenmode, but you know that you have an authentic Bavarian dress that lasts you a life time.
All the Munich society ladies buy at LODENFREY, so why shouldn't you?
I bought my last Dirndl in the second hand shop on the picture above in Augustenstrasse (near underground station Josephsplatz).
In contrast to the lifetime Lederhose of men, we women usually buy more than one traditional dress :-)
After trying on at least 20 dresses I finally found the perfect one.
Take your time, try out different styles and choose only what looks best on your own figure. The sales lady will be patient enough to show you all the models she has :-)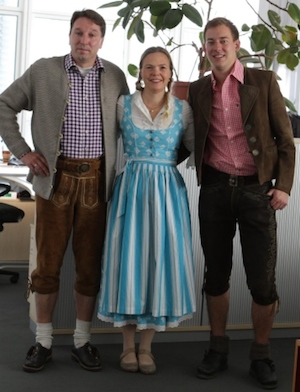 Only after you have chosen the Dirndl, go ahead and buy the corresponding white blouse. Then chose a colorful apron that matches your dress. You can have several aprons in different colors, which will give you a different look different every time you wear it.
Just to prove that one dress is not enough, here is the picture with me in my newest acquisition.
If you're still in shopping mood, go for the shoes and jewelry to match :-)
Have fun wearing your Dirndl!
Read my interview with the Queen of Couture Dirndle Lola Paltinger
Modern Dirndl by Desginer Erika Neumayer
Shoes to Wear with Your Dirndl