BMW Museum
The BMW Museum in Munich is fascinating, not only for car fanatics, but for anyone remotely interested in the history of auto-mobility.
The museum was opened in March 2008 and is a very modern and entertaining exhibition. Not the usual, old, boring museums you might be used to.
We went there with a group of 10 visitors mainly from Switzerland, and everyone was exhilarated. It's even interesting for children (given they have some interest in cars).
You start the tour with a surprising design study of an BMW, made out of LED lights.
This "spectacle" sets the tone for the rest of the exhibition. BMW works with unusual and modern concepts of light, sound and interactivity. The cars are in some parts of the museum only a nice minor matter.
Despite the modern spirit, history takes a big part as well. From the first BMW motorcycles, to beautiful old timers and the world-famous Isetta, there's a lot to visit from more than 90 years of BMW company existence.
Off course, you can spend hours watching every detail of the automobiles, or you could read every word of the many huge "books" that cover mostly everything in the company history starting from the very beginning up until now.
If you're more interested in the technology behind the scenes, you'll be delighted with the House of Technology.
It features engines as well as the themes "aerodynamics" and "lightweight construction". Admire the famous BMW six-cylinder engine, as well as several aircraft engines.
For those of you who are avid Formula One fans, there's a complete exhibition dedicated to Motor Sports. BMW's sucesses in motor racing date back to the 1930s.
You can admire motorcycles, touring cars from the past 80 years and of course one of the newest Formula 1 racers of the BMW Sauber team.
Personally, I like most the futuristic part at the end of the BMW museum tour, with design studies of how the automobiles of the future could look like.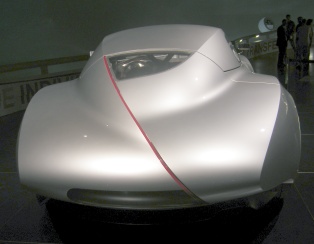 Looking at theses slim, shiny, glimmery and wonderfully elegant future cars, I felt almost like being in one of these science fiction movies, where cars are flying and talking to you:-)
To enhance this impression even more, the whole exhibition hall is darkened and only the BMW automobiles are set into scene with flood lights. Spectacular !
After you finish the tour, don't forget to visit the BMW world just across the street (entrance is free).
I'm sure you'll have a terrific time in the BMW museum and lots of impressions to tell your friends and colleagues about.
Return from BMW Museum to more Munich Museums
BMW Museum Official Website