Kids Museum
The Kinder- und Jugendmuseum at Hauptbahnhof in Munich is a museum especially for kids and teenagers.
The official guidance says it's suitable for kids aged 4 and older. But I went there on a rainy day with my 2,5 year old and he loved it! So don't be shy if you have younger kids.
The kids museum doesn't have a permanent exhibition, which means that by the time you go there, you probably won't find the sames things that I did.
They change their exhibitions once or twice a year and with them the whole interior of the museum, including wall paintings and the furniture.
By the time we went in Mai 2013, the current theme was called Hausgedacht, which is a play on words for the german word "Haus" (house) and "ausgedacht" (invented) and means something like "Think Up Your Own House".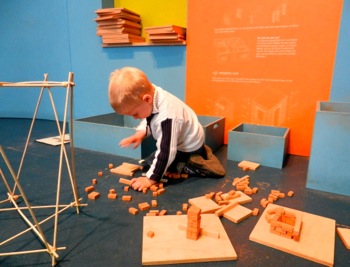 The kids are introduced into the world of architecture.
Via information leaflets and the instructions on the wall they are given information about planning and constructing a building, that are then used in the experiments.
With several different materials the kids are challenged to build their own house, a school or even a complete city.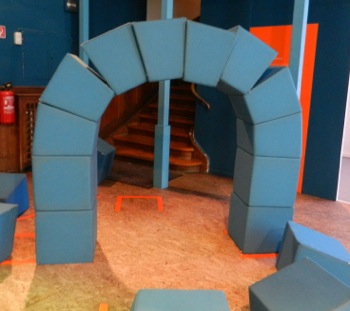 Off course, the tasks are for older children, or even adults. Some of them are rather tricky and all of them are fun to solve. I. e. building an arch made of "pillow-stones" without any other help as you can see in the picture.
My son just took the different building bricks and played with them. He was happy and so was I.
In the ground floor are several work stations with different tasks. Then you have to go down a rather steep and even a bit scary stair to the "laboratory".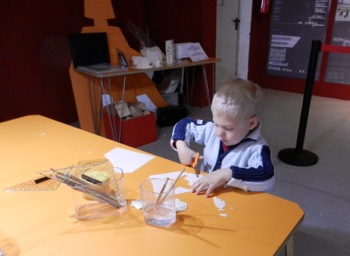 Access to the laboratory is restricted to certain times and the employees of the museum then show the kids and teenagers the current experiment.
In our case it was to build a house out of eatable wafers. The kids and teenagers got pencils to color them, scissors and set square to measure and cut out the walls and the roof, as well as brush and water to glue the different parts together.
Whilst the older children made fantastic and creative houses, my own son was content to cut the wafer into as little pieces as possible :-)
Former exhibitions include soccer (during the world championship in Germany), fairy tales, music and rain forest. I'm sure the future exhibitions will be equally intersting and you'll spend a great time here with your kids.
Opening Hours
Tuesday - Friday 14.00 - 17.00 Uhr
Weekends and school holidays 10.00 - 17.00 Uhr
Monday closed
Closing Days: 24.-26.12., 31.12. and 01.01.
Address
Hauptbahnhof, Arnulfstraße 3
This is on the right side of the train station, where the tracks 24 and upwards are located. But the entrance is outside, at the end of the big parking place for taxis and police cars.
Entrance Fee
Normal price (older than 4 years) 4,80 Euro
Groups with more than 10 persons 3,80 Euro
Family card 12,50 Euro
For more information visit:
Kinder- und Jugendmuseum München
(unfortunately only in German)
More Museums in Munich